Just want to take a moment to let blog readers know the latest episode of my podcast, The Walking Leader, is out now. Episode #159 entitled "Leadership is Everyone's Business" is now available.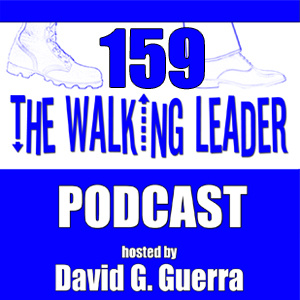 • my website (https://daveguerra.com/wlpodcast/walking-leader-podcast-150-159/walking-leader-podcast-159/)
• Apple Podcasts (https://podcasts.apple.com/us/podcast/walking-leader-official-blog/id886737443)
• Stitcher (https://www.stitcher.com/podcast/dave-guerra/the-walking-leader-podcast?refid=stpr)
• iHeartRadio (https://www.iheart.com/podcast/53-the-walking-leader-28373233/)
In this episode, sadly, far too many people believe that leadership is solely the property of those with a title, a degree, or tenure. While there is something to be said for those individuals who have but in the work to achieve that title, earn that degree, or outlast others. However, what about everyone else? Simple, they are leaders as well. The rules, guides, suggestions and premises behind leadership are not the dedicated to those who manage others, they are for everyone. Everyone that wants to not only improve themselves but actively pursuing the success and growths of others, of creating new leaders. New leaders because leadership is everyone's business.
In under 7 minutes long, I invite you to take a listen…
Have a Happy & Prosperous New Year,
David G. Guerra, MBA