This week's CHART focuses on HAVING GREAT CONVERSATIONS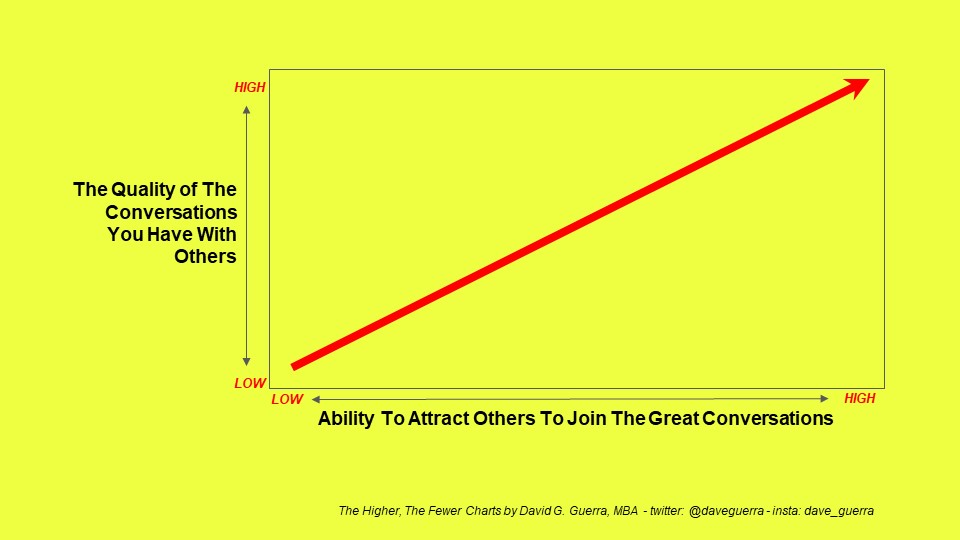 They say SMALL MINDS talk about other People, Average Minds talk about Events and GREAT MINDS talk about IDEAS.
Some of the greatest conversations I have ever had have been about Events and Ideas. The worst conversations I have had the misfortune of being a part of is those when individuals have to talk about others. It leaves me wondering if they can talk about others to me then they must be talking to others about me. I know, I know, those small minds do not know any better.
Sadly, those that exceed at talking about others do so not because of their level of education. I know several very smart, very bright, and highly educated individuals that, at a drop of a hat, dive into the cesspool of talking about others. Even sadder, are those that talking about others it is all they have ever known.
Leaving the temptation of talking about others behind immediately puts you on the trajectory of reaching the high levels of conversations. Delivering on the kinds of conversations that leave people seeking you out in that you not only talk not about others. The conversations you bring to the human interaction are the stuff that people want because it stimulates and intrigues them. It makes others wanting more.
Bring the opposite and others will do all they can to avoid you. As you should do all you can to avoid being in situations where the topic of conversation is others.
Remember, the longer you stick around and listen you rest assured to be mentioned in the next conversation (without you).
I am David Guerra and I said this.