My name is David G. Guerra, MBA.  I am a US Army Infantry Veteran.
I am an AUTHOR. I write about what I know: Leadership (at all levels), the US Army in West Berlin during the Cold War and a few other things. My leadership books focus on stepping up and getting out on the front lines to not only get to know your peers and co-workers but being an active member of the entire organizational team is the only way to succeed.
Writing books on leadership is not all I do, I am a BLOGGER, PODCASTER, and VIDEO BLOGGER.
Additionally, you can find me on Twitter, Facebook, Instagram, and Snapchat.
---
The Latest Episode of the WALKING LEADER PODCAST is now online.

In this episode, I talk about WHAT IF YOUR GOALS ARE NOT WORKING FOR YOU and how it affects achieving your main goal or mission or vision.
click here or on image to access the podcast page.
---
Learn more about my ALEXA SKILL: THE WALKING LEADER DAILY BRIEFING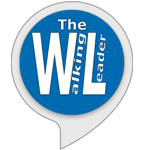 ---
I believe ALL LEADERS at ALL LEVELS (Entry Level to Executives to Company Officers to Board of Directors) must step up and do what's right especially if doing what is right is not popular. All leaders not just those mentioned in FORBES, BUSINESS WEEK, BLOOMBERG, FOX BUSINESS, INC., and all those publications but the leaders that are in those Small Mom & Pop Stores, Medium sized businesses, and those that are grinding to get beyond startup stage.
Living at the beginning of the 21st Century, I believe, we are charged with setting a foundation for a future based on rock solid leadership principles and purposeful leadership development with the intention of making leaders that are not afraid to do and say what must be done in order to accomplish the mission. The future demands it.
---
---
Please look around and if you need any help please let me know. I can help you get started Podcasting, Instagram, Website, and other social media. Thanks, Dave
P.S. Be sure to visit my GALLERY page. I picked up my first SLR camera back in 1985 and have not stopped watching the shutter fall since.
---
Let's Connect:
Save