I like to write. I write fiction and non-fiction.
---
THE WALKING LEADER (non-fiction)
The Non-Fiction is strictly based on known leadership principles with focus on being a leader, a follower, and a member of a team.The idea behind the Walking Leader and two other books in the series revolves around the concept of Managing By Walking Around (MBWA). I have always believed the idea behind MBWA is not only fantastic but exactly what every organization needs. However, when it came time to launch my own MBWA adventure, I discovered there were no rules, procedures nor guidelines to help the burgeoning manager or leader take the reins of leadership and succeed. While I was hard pressed to find anyone that was stumbling around while walking around, myself included. I did find that by having a base to go by it made things a little easier for me and I believe it will do the same for others that need the help (or kick in the pants).
The Walking Leader – Great To Follow –
THE 3000 WORD LEADERSHIP LESSON SERIES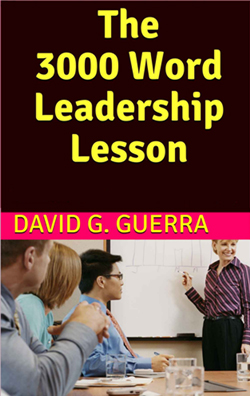 The 3000 Word Leadership Lesson series consists of bite-sized stories that guide the reader through the various intricate aspects of Leadership and successfully maneuver through those intricacies.
Each 3000 Word Leadership Lesson tackles current and real world situations that many organizations either don't see occurring because day-to-day operations are moving at such a fast pace or management refuses to acknowledge such situations are actually happening.
The 3000 Word Leadership Lesson Series is exclusively available for the AMAZON KINDLE DEVICES or APP.  Each Leadership Lesson is just $0.99 USD.
To learn more about the 3000 Word Leadership Lessons please click here.
LEADERSHIP BOOKS IN PROGRESS
Bad Leaders Aren't (Leaders) (Fall 2019 digital format only)
We, The Team (book #3 of the Walking Leader series) (Summer 2019)
---
OCCUPIED BERLIN (fiction)
The fiction I write is considered historical fiction. A historical fiction story is "made up but is set in the past and sometimes borrows true characteristics of the time period in which it is set." In my case, these stories are set in West Berlin and take place from the end of World War II (1945) to the Fall of the Berlin Wall in 1989. These books are part of the the "Occupied Berlin" series. My plan is to write 10 stories before completing the series.
 
 
 
 Doughboy City
 Air Bridge Berlin
 Spandau Guard
 
 
• The Taking of Sergeant Gonzalez (part 2)

February 5, 2019

 Parade Season
The Taking of Sergeant Gonzalez
 BOOKS IN PROGRESS

#6 – untitled Occupied Berlin series book (Christmas 2019)

#7 – untitled Occupied Berlin series book (2020)

#8 – untitled Occupied Berlin series book (2021)

#9 – untitled Occupied Berlin series book (2022)

#10 – untitled Occupied Berlin series book (2023)
I plan on writing other stories, in other genres but for now, I am home.
Thank you!
David
Save
Save
Save
Save
Save