HERE IS YOUR WEEKEND CHALLENGE: REVISIT & REVISE YOUR GOALS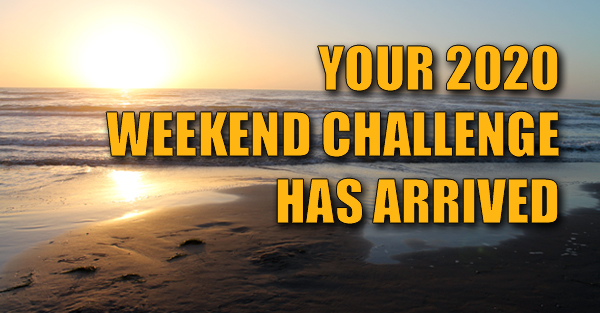 Listen to this weekend's Weekend Challenge
---
Welcome To The Weekend. It is time for another challenge.
This weekend your challenge is to go back to the beginning. Basically, is to go back and review your goals for this past month.
I know things have changed our priorities, changed the situation of our lives, and change in general in that we are more at home; hunkered down.
Go back and pull out the file that has all your goals, vision, and mission written down. Remember, writing it all down is how we achieve those goals because they become real the moment you write them down. Once real, they are achievable.
However, now in this time of a new normal, we have to adapt, change, and overcome this new life we have been given. This new opportunity. In doing that we must work to reshape and refocus our priorities and our global view.
So as our main goals, the core of our goals will not change it is how we achieve it that will change. Our timelines and our schedules now have to change. We have to adjust to this new way of the New Normal and this New Normal is everybody's New Normal.
This is happening to all of us. To all of us on the planet. Every citizen on this planet, all seven plus billion of us. It's happening to us; it's happening to all of us! You are NOT exempt and you're not special, you're not unique in that senses because you are a human being.
This is affecting the entire species. This is affecting the entire human race. All this is the great equalizer!
COVID-19 does not know who's who. Who are the haves and have nots? Who has a TV show and who doesn't have a TV show? Who is in politics and who is not in politics? Who is a parent and who is a child? Who is a boss and who is an employee? It doesn't separate, it equals everyone, all together.
So please understand, this is happening to everybody but as individuals we still have to go on our lives. We still have to continue and we still have to set ourselves some goals and we still have to set ourselves a mission and vision and we have to see the future!
Folks, this is going to come to an end and this will stop. Then we will return to some kind of normalcy, that we once knew. I guarantee you this much, we have to be prepared to come out of this as better people, better human beings. We have to come out of this with a much greater sense of purpose than all just "about me poor me".
The old "normal" days are over. Those days were over the moment that virus started spreading. That's when the writing was on the wall. A lot of us chose not to see it and still so many continue to choose not to see it. Understand that we are forced to face it and one way or another that being said I offer you this week's challenge: Sit down pull out your goals and to adjust your goal to reflect the new normal.
Get To Work!
Thanks for your time,
David