HERE IS YOUR WEEKEND CHALLENGE: BAKE SOMETHING FROM SCRATCH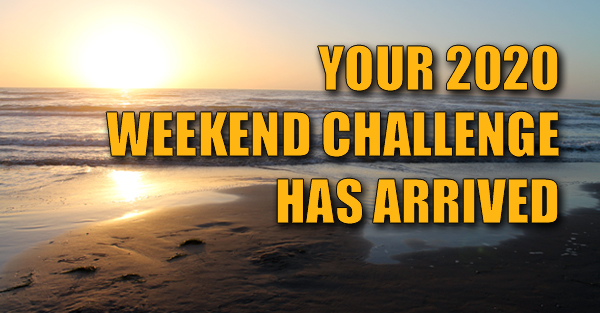 Listen to this weekend's Weekend Challenge
---
Welcome To The Weekend. It is time for another challenge.
Welcome to the weekend. This weekend is probably one of the most uncertain weekends ever in modern history. I would say it certainly is the first most uncertain weekend of the 21st Century. However, it is also a unique opportunity to do things we have not had the time to do or just been too busy to even attempt.
This weekend's challenge takes into consideration that as you are sequestered at home, self-contained, self-isolated or whatever you want to call it. There you are with nowhere to go because no place is open and the places that are open are there for you to grab and go.
So, while you are home and you have the time, here is the challenge: Bake Something from Scratch.
Take the time to bake something from scratch. By this I mean, gather the ingredients, mix them together, and get to baking.
Seriously, when was the last time you baked a piping hot loaf of bread? Made a cake from scratch? Opening a box and pouring the dry ingredients into a bowl does not count. I am talking about breaking out the ¼ teaspoon measuring spoon and mixing by hand or whisking the batter. Knead the Dough by hand?
Nothing lifts my spirits more than smelling bread baking in the oven or watching made from scratch lemon icing spread on homemade lemon-vanilla cake. In these trying times, we all could use some lifting of our spirits.
Now, if you are not sure what to bake from scratch. Well, famous English food writer, chef and cooking show host, Nigella Lawson, shares a simple, yet great bread recipe, "Basic No-Knead Bread" by Jim Lahey on her website (visit: https://www.nigella.com/recipes/guests/jim-laheys-basic-no-knead-bread).
There are only four (4) ingredients in this recipe; flour, salt, instant or active dry yeast, and water.
Sounds simple enough. Folks, this challenge also serves as a unique opportunity to do something with the family, especially the school age kids, as they get to do something other than to stare down at the small screens. They get an opportunity to not only wash their hands but to create something with those same clean hands.
Parents, you are also giving them a skill that they can carry on for their lives (sustain themselves) and you also now give them a positive memory that they will one day tell their grandchildren about how "during the Corona Virus Pandemic, not only did we hunker down but all of us, the family, baked bread from scratch and it was the greatest tasting bread ever."
You can do it, as I said, it is not like you don't have the time.
Get To Baking and Get To Work!
Thanks for your time,
David