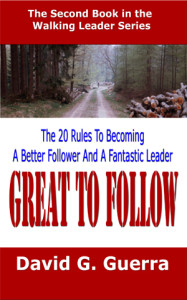 To be a great leader you have to be a greater follower. Everyone knows that. Really, everyone should know that. Everyone should believe that.
All great leaders were once great followers. In this follow up to the WALKING LEADER, David Guerra offers future leaders 20 rules to help them become better followers and in turn become leaders that are great to follow. The twenty common sense rules are designed to get the reader actively involved with creating and shaping their future as a leader with any organization.
The 20 rules of "Great To Follow" are:
You Know Nothing
Know Your Role
Expect To Be Held Accountable
Ask Questions
Get To Know The Good Veterans
Watch Out For The Cranky Old-Timers
Continue Your Education
Get A Mentor
You Are Who You Hang Out With
Stay Visible
Volunteer But Don't Look Like You Are Volunteering
Demand The Best From Your Superiors
You Are Not A Spy
Take That Extra Step
Know Your Co-Workers
Share With Others
Evaluate Yourself, Constantly
Bring More To The Company Buffet Than Just Your Appetite
Be Patient
Have Fun
Work Is To Stay At Work & Home Is To Stay At Home (BONUS CHAPTER)
Order your copy of Great To Follow for the Amazon Kindle

---
Order a paperback copy of Great To Follow

---
• CLICK HERE to visit David Guerra's SQUARE.com PAGE to order a signed copy of GREAT TO FOLLOW.
Save