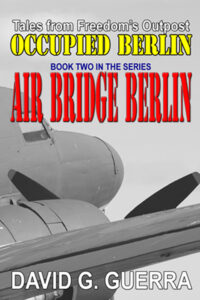 AIR BRIDGE BERLIN
by David G. Guerra
OCCUPIED BERLIN (Book 2)
146 pages, 6.00 x 0.30 X 9.00 in
PAPERBACK
ISBN: 9781494912932
PUBLISHED: MAY 11, 2014
click to purchase from these retailers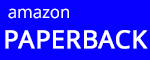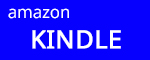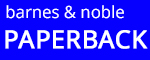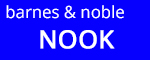 DESCRIPTION
Set in 1948 West Berlin during the Soviet Blockade of Berlin and the Berlin Airlift. US Army Infantry Corporal Tony Henriquez and his men are tasked with guarding Tempelhof airbase, the focal point of food, medicine, and fuel arriving in the beleaguered city.
While on guard duty, Henriquez meets a young Berliner that was there to catch the famous parachute candy bars from the Candy Bomber himself. During the early months of the Airlift, the two form a fast friendship.
As the much needed food and medicine was coming in to the city without fail, very few aircraft ever took anything (or anyone) back to the west. All was going well until one day the Henriquez stumbles onto a secret operation run by a covert U.S. group. The young Berliner stumbles into the middle of a different covert operation when he sees something that questions everything that he knows about his long time neighbor.
Soon the two find out the Soviets are running the other covert operation of their own and have been running that operation quite effectively. Tony Henriquez and the young Berliner are on a race against time to save Berlin and western Germany from the Soviets and executing their plans to disrupt the freedom of West Germany and the Free World.