HERE IS YOUR WEEKEND CHALLENGE: GO OUTSIDE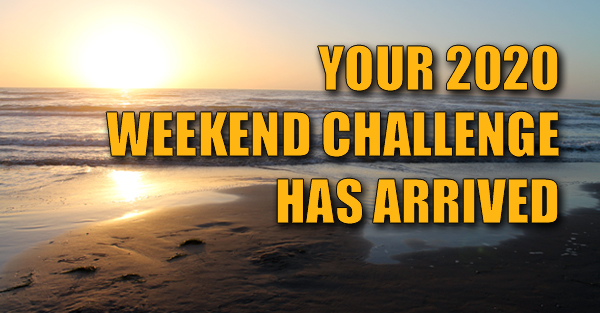 Listen to this weekend's Weekend Challenge
---
Welcome To The Weekend. It is time for another challenge.
Welcome to your weekend challenge. This weekend's challenge is another one that is simple to do but yet for some reason many find it difficult to do.
GET OUT OUTSIDE!
Yes, that's it. Get outside. Let the sun hit your face. Feel that Spring breeze move across you.
I am not talking about going out and being around large groups of people. Especially in these trying times, large gatherings a no-no.
What I am talking about is go visit your backyard. Take a saunter across you front yard or be daring and drive out to a local park, find an area not being overly saturated with other human beings and go for a walk.
Being outside will do you a world of good. Getting a little exposure to the sun will help your body generate Vitamin D. That's right, with the aid of sunlight your body makes Vitamin D.
In a nutshell, it works like this: Sunlight hits your skin, "the sun's ultraviolet B (UVB) rays hit cholesterol in the skin cells, providing the energy for vitamin D synthesis to occur."
Now, who couldn't need a little extra Vitamin D? According to the WebMD website, there are an estimated 40-75% of people are Vitamin D deficient. That deficiency is associated with bone loss and osteoporosis. As people get older they spend less time outdoors, they tend to get less Vitamin D thus leading to bone problems.
But wait there is more. Vitamin D can aid in the prevention of cancer, heart disease, stroke, diabetes, autoimmune diseases and much more. Sounds not too shabby.
While I am all for making my own Vitamin D, the exposure to the sun should be at your discretion. I am find that 10 to 15 minutes several times throughout the day works. So limit your exposure but do enjoy your time outside.
Hear the bird chirp, watch the squirrels trying to get their nuts, look up and see the cloud that looks like Ireland and so on.
Remember, social distancing and Get To Work!
Thanks for your time,
David