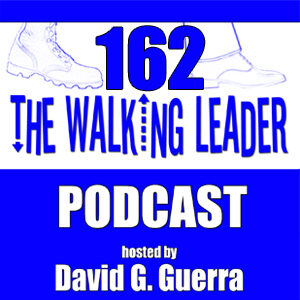 Friday, January 15, 2020 – DAVEGUERRA.com announces the online posting of the latest episode of the Walking Leader Podcast.
Episode 162 of the Walking Leader Podcast titled, "As The Walking Leader, Either You Lead By Example or You Don't Lead At All", host and author of the Walking Leader book series, David G. Guerra, MBA talks about How leading by example is a non-negotiable leadership principle. "Leaders comes in all shapes and sizes. Each leader is unique. That being the case that uniqueness is what makes leaders become great. It is when they use that uniqueness to go beyond the ordinary day-to-day grind of leadership. Yes, I said that. It can be a grind, if individuals just want to go through the motions. However, to be greater than the ordinary those unique leaders know that what they do is mission critical. Leading by example is at the tip of the leadership iceberg. The Walking Leader knows that walking their talk is critical to developing, creating, and motivating future leaders. As those future leaders see the success of their leaders because they lead by example, thus up and coming leaders can do nothing else because their leaders are executing on the lead by example mindset. Thus, leading by example is non-negotiable because the ONLY option is to NOT lead at all."
Click here to visit podcast #162 page and listen to the episode with the online player.