As The Walking Leader, Either You Lead By Example or You Don't Lead At All (#162)
by David G. Guerra • Walking Leader Podcast
---
In This Episode:

As The Walking Leader, Either You Lead By Example or You Don't Lead At All with your host David G. Guerra, MBA
---
LISTEN NOW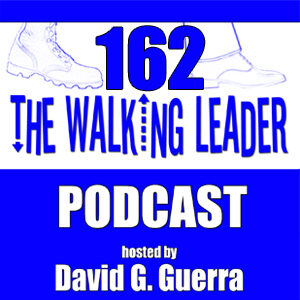 As The Walking Leader, Either You Lead By Example or You Don't Lead At All
Leaders comes in all shapes and sizes. Each leader is unique. That being the case that uniqueness is what makes leaders become great. It is when they use that uniqueness to go beyond the ordinary day-to-day grind of leadership. Yes, I said that. It can be a grind, if individuals just want to go through the motions. However, to be greater than the ordinary those unique leaders know that what they do is mission critical. Leading by example is at the tip of the leadership iceberg. The Walking Leader knows that walking their talk is critical to developing, creating, and motivating future leaders. As those future leaders see the success of their leaders because they lead by example, thus up and coming leaders can do nothing else because their leaders are executing on the lead by example mindset. Thus, leading by example is non-negotiable because the ONLY option is to NOT lead at all.
Don't forget to CREATE WIN-WIN situations in all that you do. Start Strong! Stay Strong! Finish Strong! Be Strong!
And as always, I remind you to GO BEYOND THE GRIND & GO BEYOND THE HUSTLE BECAUSE THAT IS THE ONLY WAY TO BE THE WALKING LEADER AND A LEADER THAT IS GREAT TO FOLLOW.
---
Please plug in your headphones, sit back and enjoy this 10 minute podcast.
---
LINKS MENTIONED IN THIS EPISODE:
• Walking Leader (dot) com: http://walkingleader.com/
---
Transcription: (coming soon)