This week's CHART focuses on MAKING EXCUSES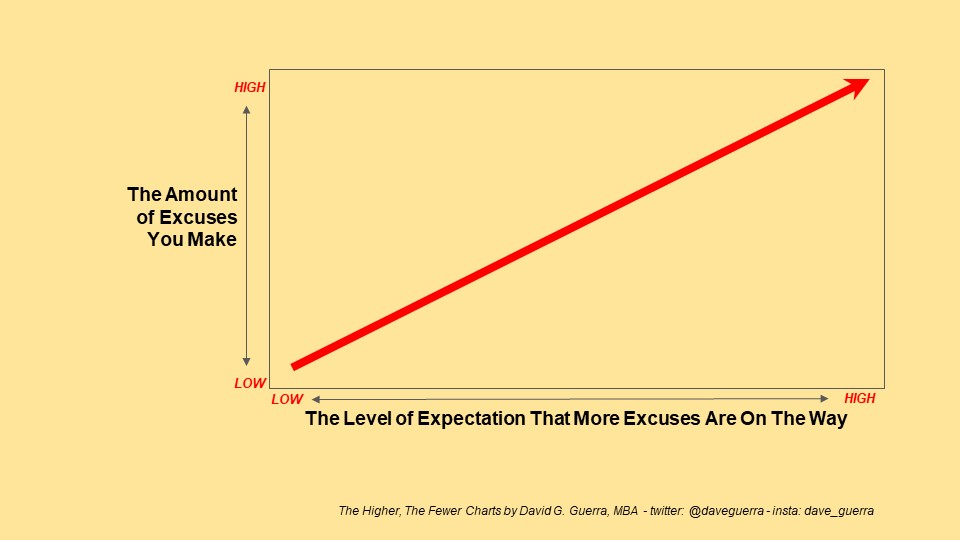 We all make excuses. NO ONE IS IMMUNE FROM MAKING EXCUSES.
For the most part, excuses are made not to deflect blame but to explain why something was done the way it was done or why it was not completed or started. In general, EXCUSES such as these should be occasional occurrences. They should be the exception and not the norm.
Yet, there are those individuals that excel at making too many excuses for why this or that happened. Their excuses can almost be predicted down to the second of when they will occur. These excuse making individuals cannot be counted upon to do what must be done and completed by the time it needs to be completed. The EXCUSES these individuals make will vary with most, if not all, will be in blaming others or situations that they had no part in, yet find themselves being impacted by them.
Once these types of excuses begin, they do not stop coming. Excuses blaming others, deflecting from what actually happened, and other such nonsense leads to one common denominator: NOT ACCEPTING RESPONSIBILITY.
EXCUSES flow in a manner that, as mentioned, others can predict, with great accuracy, when the next one is coming because it will come. Individuals of this caliber, while not delivering on what they say or promise to do can be trusted to do one thing with absolute certainty: MAKING EXCUSES.
If you are an EXCUSE maker, try something new: STOP MAKING EXCUSES!
I am DAVID GUERRA and I said this.