LEADING CHANGE

by David G. Guerra • Walking Leader Podcast

LISTEN NOW
This episode, I talk about LEADING CHANGE: What to do and how to go about doing it right.
—–
Please plug in your headphones, sit back and enjoy this 12 minute podcast.
When it comes to leading change there are a few things as a leader you must do to ensure change successfully propagates and is implemented throughout the organization, section, department, group or team. This episode expands on the content provided in Leadership Minute video #65 (Leading Change). I also talk about using the OODA loop throughout the entire process of Leading Change in your organization.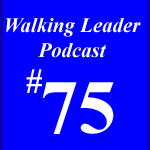 Get your copy of my books (paperback):
|