Defining Goals, Not Providing Feedback and a Book Review

by David G. Guerra • Walking Leader Podcast

LISTEN NOW
This episode, I talk about Defining Goals, Not Providing Feedback, and Power of Broke book review.
As a leader, you will be called upon to make goals for your group, department, or organization. That is why Goals that are clearly defined are understandable and executable is critical. At the same time, being a leader requires you to provide feedback immediately.
Also, I talk about Daymond John's latest book, The Power of Broke.
—–
Please plug in your headphones, sit back and enjoy this 22 minute podcast.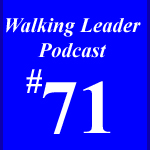 Buy my books (paperback):
|