Building Staff Morale

by David G. Guerra • Walking Leader Podcast

LISTEN NOW
This episode, I talk about Building Staff Morale.
As a leader, it is one of your primary responsibilities to ensure that staff morale is high and positive. However, it can be struggle when dealing with humans as each one is unique and brings something different to the organization.
 —–
Please plug in your headphones, sit back and enjoy this 20 minute podcast.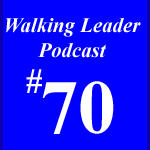 Buy my books (paperback):
|