Do Not Be Afraid Of Change
by David G. Guerra • Walking Leader Podcast
---
In This Episode:

Do Not Be Afraid Of Change with your host David G. Guerra, MBA
---
LISTEN NOW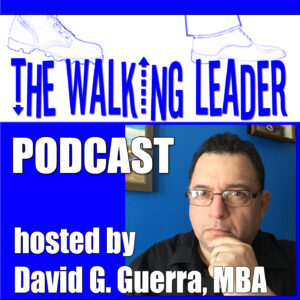 Do Not Be Afraid Of Change
This week's topic is "Do Not Be Afraid Of Change." In these most difficult and constantly evolving times change is the only true constant. As a leader, change is what made you a leader and it will be what keeps you as a leader. Therefore, because like most change we cannot control or anticipate when it arrives but when it is here, leaders must not fear CHANGE. While not fearing is change is not part of any formal leadership training it is something that has to be experienced. While professional development may cover the uncertainty but it does not fully engulf or even attempt to explain the uniqueness of change and that it brings. Leaders, have a responsibility to their followers, their own leadership, and peers to be prepared to face change head on and not by sticking their head in the sand. Oh, no Leaders do not have the luxury of being afraid of change. Fear of change is NOT in the vocabulary of True and Authentic Leaders.
Don't forget to CREATE WIN-WIN situations in all that you do. Start Strong! Stay Strong! Finish Strong! Be Strong!
And as always, I remind you to GO BEYOND THE GRIND & GO BEYOND THE HUSTLE BECAUSE THAT IS THE ONLY WAY TO BE THE WALKING LEADER AND A LEADER THAT IS GREAT TO FOLLOW.
---
Click here to order & download your KINDLE digital copy of "The Walking Leader" and "Great To Follow":