Always Stay Open To Learning Something New
by David G. Guerra • Walking Leader Podcast
---
In This Episode:

Always Stay Open To Learning Something New with your host David G. Guerra, MBA
---
LISTEN NOW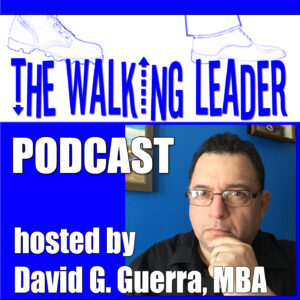 Always Stay Open To Learning Something New
This week's topic is "Always Stay Open To Learning Something New". As a leader (current or future) you have no choice but to always be learning and growing. The most effective leader is one that leads by example and to be that leader you have to keep an open mind, have a hunger for learning. All the while not just settling for what has been spoon fed to you. If it makes others uncomfortable then you are probably on the right track. That is why as a Leader you must always ask "WHY?" your 4 year old self would be proud of you. Always remember and never forget you are a LEADER it is YOUR JOB to be open to learning something new. For more insight listen (and learn) to this 18 minute episode.
Don't forget to CREATE WIN-WIN situations in all that you do. Start Strong! Stay Strong! Finish Strong! Be Strong!
And as always, I remind you to GO BEYOND THE GRIND & GO BEYOND THE HUSTLE BECAUSE THAT IS THE ONLY WAY TO BE THE WALKING LEADER AND A LEADER THAT IS GREAT TO FOLLOW.
---
Click here to order & download your KINDLE digital copy of "The Walking Leader" and "Great To Follow":