Learn To Trust Yourself And Your Gut (#192)
by David G. Guerra • Walking Leader Podcast
---
In This Episode:

Learn To Trust Yourself and Your Gut with your host David G. Guerra, MBA
---
LISTEN NOW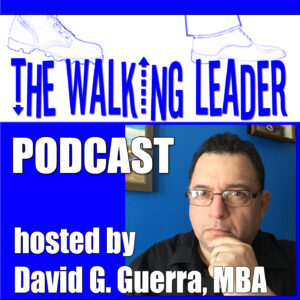 Learn To Trust Yourself and Your Gut
We all have that little voice that is always talking to us but we all too often fail to pay attention to and that's to our own dismay. We listen and acknowledge that little voice with the old "I shoulda listened" or "why didn't I listen to that little voice"and of course, long after we have failed, lost, and learned that valuable life lesson. Eventually, you start listening to that little voice, your gut (intuition) and then you start to succeed. Success in relationships both personal & professional. So put your headphones on and listen to this 14 minute podcast episode.
Don't forget to CREATE WIN-WIN situations in all that you do. Start Strong! Stay Strong! Finish Strong! Be Strong!
And as always, I remind you to GO BEYOND THE GRIND & GO BEYOND THE HUSTLE BECAUSE THAT IS THE ONLY WAY TO BE THE WALKING LEADER AND A LEADER THAT IS GREAT TO FOLLOW.
---
Click here to order & download your KINDLE digital copy of "The Walking Leader" and "Great To Follow":