Become Hyper Aware of Emotions, Thoughts, and Actions (#192)
by David G. Guerra • Walking Leader Podcast
---
In This Episode:

Become Hyper Aware of Emotions, Thoughts, and Actions with your host David G. Guerra, MBA
---
LISTEN NOW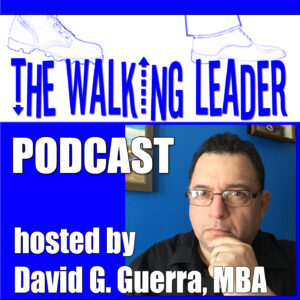 Become Hyper Aware of Emotions, Thoughts, and Actions
The ability to be Hyper Aware of your Emotions, thoughts, and actions is not an ability that people are born with. Well, okay some people are born with it. However, whether born with it or grown over time, the ability to use that hyper-awareness is not easy to master but it has to be mastered. As a leader with the ability to be hyper-aware you are in a unique place that others work long and hard to reach. You are in a place where you can see 360 degrees (head on a swivel), look over the horizon and you use that ability to make better decisions whose positive results and outcomes will be received by your team. Being hyper-aware is not about being overly sensitive but looking at things from a different perspective, then reaching unique conclusions and then effectively acting on them.. Listen to this 13 minute podcast episode.
Don't forget to CREATE WIN-WIN situations in all that you do. Start Strong! Stay Strong! Finish Strong! Be Strong!
And as always, I remind you to GO BEYOND THE GRIND & GO BEYOND THE HUSTLE BECAUSE THAT IS THE ONLY WAY TO BE THE WALKING LEADER AND A LEADER THAT IS GREAT TO FOLLOW.
---
Click here to order & download your KINDLE digital copy of "The Walking Leader" and "Great To Follow":