Always Stay In Communication With Customers (#191)
by David G. Guerra • Walking Leader Podcast
---
In This Episode:

Always Stay In Communication With Customers with your host David G. Guerra, MBA
---
LISTEN NOW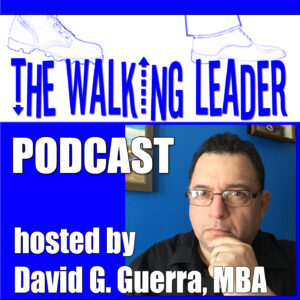 Always Stay In Communication With Customers
This current pandemic world has highlighted and brought to the forefront the need to maintain constant communication with our customers, at all levels. This need to always stay in communication has ALWAYS been a necessary presence. This is not something that is new or just because of the current global affairs, communicating with your customers is Business Leadership 101. The level of professional development involved is minimal because communication is the key to business and leadership development. Effective communication is more than just using the tools at your disposal, it is about going beyond with those tools. Listen to this 14 minute podcast episode.
Don't forget to CREATE WIN-WIN situations in all that you do. Start Strong! Stay Strong! Finish Strong! Be Strong!
And as always, I remind you to GO BEYOND THE GRIND & GO BEYOND THE HUSTLE BECAUSE THAT IS THE ONLY WAY TO BE THE WALKING LEADER AND A LEADER THAT IS GREAT TO FOLLOW.
---
Click here to order & download your KINDLE digital copy of "The Walking Leader" and "Great To Follow":