Don't Just Think Outside the Box Throw Away The Box (#190)
by David G. Guerra • Walking Leader Podcast
---
In This Episode:

Don't Just Think Outside the Box Throw Away The Box with your host David G. Guerra, MBA
---
LISTEN NOW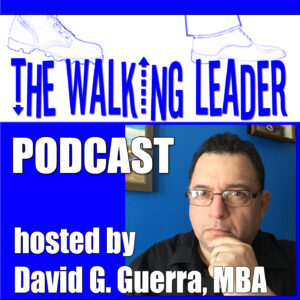 Don't Just Think Outside the Box Throw Away The Box
When it comes to thinking outside the box, don't work your way into a slightly bigger box. As a leader, you owe it to your followers, peers, colleagues, leaders, and everyone around you to throw away the notion of being in a box because thinking that way will never get you out of the boxed in mindset. Change your mindset and throw away all the boxes to put yourself in a world of limitless possibilities. By leadership training either through professional development (a.k.a. leadership development) or employee training it behooves you to work diligently to remove that antiquated mindset to deliver on business leadership. Take a listen to this week's 15 minute podcast.
Don't forget to CREATE WIN-WIN situations in all that you do. Start Strong! Stay Strong! Finish Strong! Be Strong!
And as always, I remind you to GO BEYOND THE GRIND & GO BEYOND THE HUSTLE BECAUSE THAT IS THE ONLY WAY TO BE THE WALKING LEADER AND A LEADER THAT IS GREAT TO FOLLOW.
---
Click here to order & download your KINDLE digital copy of "The Walking Leader" and "Great To Follow":