Always Work On Yourself As A Person (#189)
by David G. Guerra • Walking Leader Podcast
---
In This Episode:

Always Work On Yourself As A Person with your host David G. Guerra, MBA
---
LISTEN NOW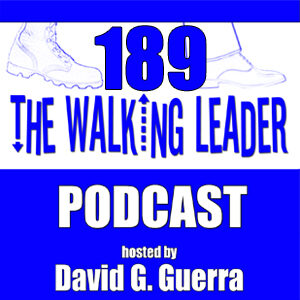 Always Work On Yourself As A Person 
When it comes to becoming a better leader you have to take a selfish approach to working on yourself. It is not only proper and correct to continuously improve yourself though any means necessary. Whether reading a book, learning a new skill, or whatever works for you, it has to be done. Working on yourself as a person is mission critical to being the leader you have always wanted to follow but also as a leader that helps create new future leaders and helps to motivate and inspire the growth of current leaders, peers, followers, and anyone they come in contact with. Take a listen to this week's 12 minute podcast.
Don't forget to CREATE WIN-WIN situations in all that you do. Start Strong! Stay Strong! Finish Strong! Be Strong!
And as always, I remind you to GO BEYOND THE GRIND & GO BEYOND THE HUSTLE BECAUSE THAT IS THE ONLY WAY TO BE THE WALKING LEADER AND A LEADER THAT IS GREAT TO FOLLOW.
---
Click here to order & download your KINDLE digital copy of "The Walking Leader" and "Great To Follow":