Have Faith In Something Greater Than Self (#187)
by David G. Guerra • Walking Leader Podcast
---
In This Episode:

Have Faith In Something Greater Than Yourself with your host David G. Guerra, MBA
---
LISTEN NOW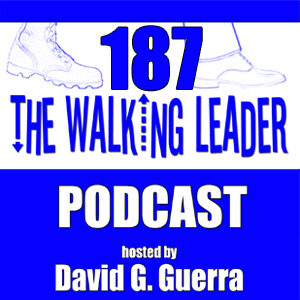 Have Faith In Something Greater Than Yourself
In this episode, I want to talk about as a leader, you have to have faith not just in yourself but in something greater than you. That greater something is your team, your organization's mission & vision & leadership, and most of all, your organization's customers & clients. Believing and trusting in more than just you makes you the embodiment of the success in what you do. Having faith in something greater than yourself is critical as it is the true form of leading by example.
Don't forget to CREATE WIN-WIN situations in all that you do. Start Strong! Stay Strong! Finish Strong! Be Strong!
And as always, I remind you to GO BEYOND THE GRIND & GO BEYOND THE HUSTLE BECAUSE THAT IS THE ONLY WAY TO BE THE WALKING LEADER AND A LEADER THAT IS GREAT TO FOLLOW.
---
Plug in your headphones, sit back and enjoy this 15 minute podcast
---
Don't Forget To Subscribe
Click here to order & download your KINDLE digital copy of "The Walking Leader" and "Great To Follow":