Take Calculated Risks (#185)
by David G. Guerra • Walking Leader Podcast
---
In This Episode:

Take Calculated Risks with your host David G. Guerra, MBA
---
LISTEN NOW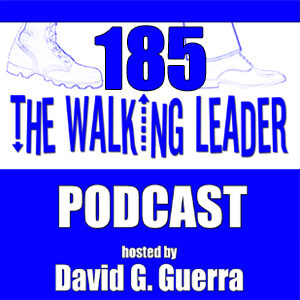 Take Calculated Risks 
Taking calculated risks is not just for leaders, but everyone does it and they do it all the time. For whatever reason, excuse or situation it has to be done. Those that know to step back to analyze the situation for any potential risk usually get what they expect. Sadly, there are many that refuse to weigh all the options and get exactly what they deserve. In this episode, I talk about when you should take a calculated risk, risk versus reward, and when is taking a calculated risk worth it.
Don't forget to CREATE WIN-WIN situations in all that you do. Start Strong! Stay Strong! Finish Strong! Be Strong!
And as always, I remind you to GO BEYOND THE GRIND & GO BEYOND THE HUSTLE BECAUSE THAT IS THE ONLY WAY TO BE THE WALKING LEADER AND A LEADER THAT IS GREAT TO FOLLOW.
---
Please plug in your headphones, sit back and enjoy this 15 minute podcast.
Music in this episode:
Music from https://filmmusic.io
"Welcome To The Show" by Kevin MacLeod (https://incompetech.com)
License: CC BY (http://creativecommons.org/licenses/by/4.0/)
---
LINKS MENTIONED IN THIS EPISODE:
• Walking Leader (dot) com: http://walkingleader.com/
---
Subscribe To The Walking Leader
---
Click here to order & download your KINDLE digital copy of "The Walking Leader" and "Great To Follow":