Walk Your Talk (#183)
by David G. Guerra • Walking Leader Podcast
---
In This Episode:

Walk Your Talk with your host David G. Guerra, MBA
---
LISTEN NOW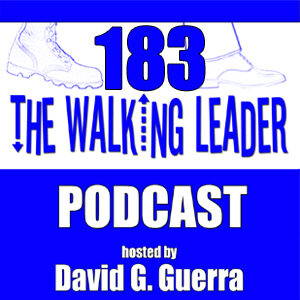 Walk Your Talk 
There comes a time when you have to take a stand, be your true, authentic self. When that time comes you are Walking Your Talk. Walking Your Talk means you are aligned with what you believe, say, and do. While many find it difficult to do all three, at the same time, it can be done. Combining all three will eventually come to everyone but those that act on it are also few and far between. Why? Because when it comes to being your own unique self most people find it difficult to be true to themselves. They would rather be out among the crowd because it is easy, popular and the "cool" thing to do. Because it is difficult, unpopular and not cool are the exact reasons why WALKING YOUR TALK needs to be done. When you Walk Your Talk, you become something you will NEVER be when you are doing the easy, popular, cool thing, you become Authentic and Genuine. Take a listen to this 10 minute episode for more on why it is important and necessary to Walk Your Talk.
Don't forget to CREATE WIN-WIN situations in all that you do. Start Strong! Stay Strong! Finish Strong! Be Strong!
And as always, I remind you to GO BEYOND THE GRIND & GO BEYOND THE HUSTLE BECAUSE THAT IS THE ONLY WAY TO BE THE WALKING LEADER AND A LEADER THAT IS GREAT TO FOLLOW.
---
Please plug in your headphones, sit back and enjoy this 10 minute podcast.
---
LINKS MENTIONED IN THIS EPISODE:
• Walking Leader (dot) com: http://walkingleader.com/
---
Transcription: (coming soon)