Resilience Is The Key (#182)
by David G. Guerra • Walking Leader Podcast
---
In This Episode:

Resilience Is The Key with your host David G. Guerra, MBA
---
LISTEN NOW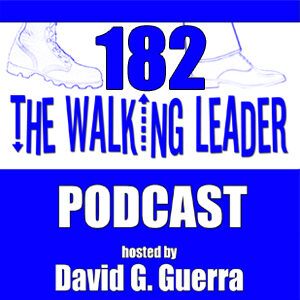 Resilience Is The Key 
In times of trouble, doubt, and uncertainty it is how you deal with all that is what will make you a Great Leader. Resilience is what everyone needs. Why? Everyone needs to learn to be resilient as it is not something that is acquired at birth. Being resilient is something that must be learned, practiced, and mastered throughout your life. By learning how to deal with adversity and difficult times, you become a leader that is leading by example. Leaders that lead by example are certainly on the fast track to leadership greatness.
Don't forget to CREATE WIN-WIN situations in all that you do. Start Strong! Stay Strong! Finish Strong! Be Strong!
And as always, I remind you to GO BEYOND THE GRIND & GO BEYOND THE HUSTLE BECAUSE THAT IS THE ONLY WAY TO BE THE WALKING LEADER AND A LEADER THAT IS GREAT TO FOLLOW.
---
Plug in your headphones, sit back and enjoy this 15 minute podcast.
---
LINKS MENTIONED IN THIS EPISODE:
• Walking Leader (dot) com: http://walkingleader.com/
---
MUSIC IN THIS EPISODE:
Welcome to the Show Kevin MacLeod (incompetech.com)
Licensed under Creative Commons: By Attribution 3.0 License
http://creativecommons.org/licenses/by/3.0/
---
Transcription: (coming soon)