Walking Leader Podcast #179
Patience Is A Virtue (#179)
by David G. Guerra • Walking Leader Podcast
---
In This Episode:

Patience Is A Virtue with your host David G. Guerra, MBA
---
LISTEN NOW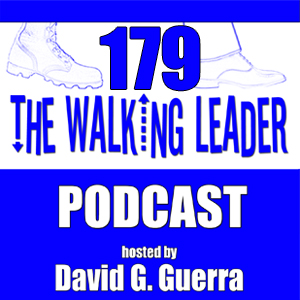 Patience Is A Virtue 
The old adage of Patience is A Virtue is a skill that all leaders must master and that is non-negotiable. Patience is the tool that as a leader you must not only live but ensure that others emulate. While it may be difficult for some to master it will come easy to others. Even then it may not be easy to master. With achieving and mastering patience there has to come some change. That change may come at a price. Good or bad, that price may not be worth paying for some and for others it is a necessary toll. Nonetheless, change and gaining patience is part of the process of growth and maturity. Understanding that Patience is not always what the popular preconceived notion deems it to be. Take a listen to this 17 minute episode to find out exactly what I am talking about.
Don't forget to CREATE WIN-WIN situations in all that you do. Start Strong! Stay Strong! Finish Strong! Be Strong!
And as always, I remind you to GO BEYOND THE GRIND & GO BEYOND THE HUSTLE BECAUSE THAT IS THE ONLY WAY TO BE THE WALKING LEADER AND A LEADER THAT IS GREAT TO FOLLOW.
---
Please plug in your headphones, sit back and enjoy this 17 minute podcast.
---
LINKS MENTIONED IN THIS EPISODE:
• Walking Leader (dot) com: http://walkingleader.com/
---
Transcription: (coming soon)