As The Walking Leader, Know The Reality of Leaders & Stress & Anxiety (#172)
by David G. Guerra • Walking Leader Podcast
---
In This Episode:

As The Walking Leader, Know The Reality of Leaders & Stress & Anxiety with your host David G. Guerra, MBA
---
LISTEN NOW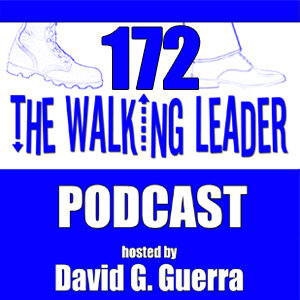 As The Walking Leader, Know The Reality of Leaders & Stress & Anxiety. 
Leaders throughout history have had to face the challenges, trials, and tribulations that come with their appointment to a position of leadership. I am NOT talking about managers, I am talking about leaders, the true, honest and authentic leaders that day-to-day not only perform their tasks and responsibilities while leading, inspiring, and motivating others. It can be a daunting task especially when stress and anxiety creeps in. In this episode, I talk about why it happens and what we can do about it. You must do something about it sooner, rather than later.
Don't forget to CREATE WIN-WIN situations in all that you do. Start Strong! Stay Strong! Finish Strong! Be Strong!
And as always, I remind you to GO BEYOND THE GRIND & GO BEYOND THE HUSTLE BECAUSE THAT IS THE ONLY WAY TO BE THE WALKING LEADER AND A LEADER THAT IS GREAT TO FOLLOW.
---
Please plug in your headphones, sit back and enjoy this 20 minute podcast.
---
LINKS MENTIONED IN THIS EPISODE:
• Walking Leader (dot) com: http://walkingleader.com/
• Anxiety &  Depression Association of America – Coping Strategies: https://adaa.org/tips
---
Transcription: (coming soon)