Walking Leader Podcast #171
As The Walking Leader, Do Not Be Hasty To Solve Problems (#171)
by David G. Guerra • Walking Leader Podcast
---
In This Episode:

As The Walking Leader, Do Not Be Hasty To Solve Problems with your host David G. Guerra, MBA
---
LISTEN NOW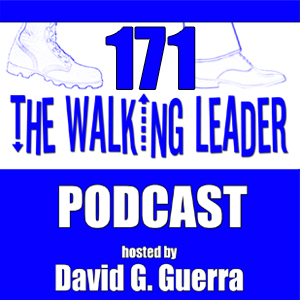 As The Walking Leader, Do Not Be Hasty To Solve Problems. 
In these trying times Leaders are needed. Leaders are expected to step in and step up. In the age of COVID-19, real leadership is needed right now. Leadership, the kind that you have wanted to follow is what you need to be delivering. Now is not the time for wallflowers to stay in the background. Now the time is needy for those leaders that are willing to put "steel on target" when it comes to addressing problems. The days of quickly and hastily solving problems are long gone. Now, leaders are called on to act quickly then take the time time to Observe, Orient, Decide and Act, only after READY, FIRE, AIM!
Because situations are evolving quickly, leaders can no longer afford the luxury of attempting to solve problems on their own. They now have to do what it takes to put a spotlight or two or a dozen on the problem and draw an almost 360 degree approach to solving the problem. The solution of which entails putting "steel center mass of the target."
Don't forget to CREATE WIN-WIN situations in all that you do. Start Strong! Stay Strong! Finish Strong! Be Strong!
And as always, I remind you to GO BEYOND THE GRIND & GO BEYOND THE HUSTLE BECAUSE THAT IS THE ONLY WAY TO BE THE WALKING LEADER AND A LEADER THAT IS GREAT TO FOLLOW.
---
Please plug in your headphones, sit back and enjoy this 14 minute podcast.
---
LINKS MENTIONED IN THIS EPISODE:
• Walking Leader (dot) com: http://walkingleader.com/
---
Transcription: (coming soon)