As The Walking Leader, Leaders Are Team Players (#165)
by David G. Guerra • Walking Leader Podcast
---
In This Episode:

As The Walking Leader, Leaders Are Team Players with your host David G. Guerra, MBA
---
LISTEN NOW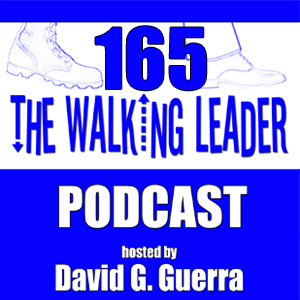 As The Walking Leader, Leaders Are Team Players. 
When it comes Leaders, they are all team players. Leaders are members of the team. Leaders are nothing without a team but a team can exist without a leader. That train of thought may go against what many have been taught. However, in the 21st Century, the autonomy of the tight, solid, cohesive team can still deliver on the mission, the vision and the goals that have been set from the onset of the birth of the team. The leader has to be a team player first then the team leader.
Don't forget to CREATE WIN-WIN situations in all that you do. Start Strong! Stay Strong! Finish Strong! Be Strong!
And as always, I remind you to GO BEYOND THE GRIND & GO BEYOND THE HUSTLE BECAUSE THAT IS THE ONLY WAY TO BE THE WALKING LEADER AND A LEADER THAT IS GREAT TO FOLLOW.
---
Please plug in your headphones, sit back and enjoy this 9 minute podcast.
---
LINKS MENTIONED IN THIS EPISODE:
• Walking Leader (dot) com: http://walkingleader.com/
---
Transcription: (coming soon)