As The Walking Leader, Know That Leadership Is A Relationship (#164)
by David G. Guerra • Walking Leader Podcast
---
In This Episode:

As The Walking Leader, Know That Leadership Is A Relationship with your host David G. Guerra, MBA
---
LISTEN NOW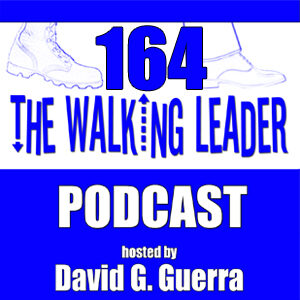 As The Walking Leader, Know That Leadership Is A Relationship. 
As a leader, in any thing you do or are a part of you must know that leadership is a relationship. Just like any relationship (friends, family, spouse) a leader must maintain a fair and equitable relationship with all members her team. A true leader recognizes that all members of the team need each other to succeed and the need goes in all directions not just up and down. Leadership is a relationship founded on mutual respect, mutual trust, and a mutual need to succeed.
Don't forget to CREATE WIN-WIN situations in all that you do. Start Strong! Stay Strong! Finish Strong! Be Strong!
And as always, I remind you to GO BEYOND THE GRIND & GO BEYOND THE HUSTLE BECAUSE THAT IS THE ONLY WAY TO BE THE WALKING LEADER AND A LEADER THAT IS GREAT TO FOLLOW.
---
Please plug in your headphones, sit back and enjoy this 8 minute podcast.
---
LINKS MENTIONED IN THIS EPISODE:
• Walking Leader (dot) com: http://walkingleader.com/
---
Transcription: (coming soon)