As The Walking Leader, Looking Forward Is A Leadership Prerequisite (#163)
by David G. Guerra • Walking Leader Podcast
---
In This Episode:

As The Walking Leader, Looking Forward Is A Leadership Prerequisite with your host David G. Guerra, MBA
---
LISTEN NOW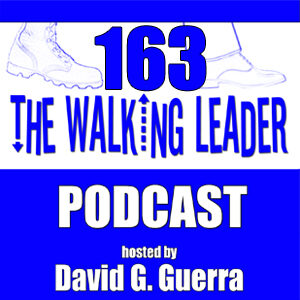 As The Walking Leader, Looking Forward Is A Leadership Prerequisite. 
As a leader, you must be looking over the horizon to see what is coming. A visionary is a better term. Leaders must be prepared to deal with whatever comes your way. Using your knowledge and wisdom is what prepares you to deal with what happens. To be a great leader you must have the ability to look forward. Begin with the end in mind and guide your followers through the "undiscovered country", the uncharted waters. Being that leader that is not afraid to look at what is coming and act on that is a leader that people will follow and want to emulate.
Don't forget to CREATE WIN-WIN situations in all that you do. Start Strong! Stay Strong! Finish Strong! Be Strong!
And as always, I remind you to GO BEYOND THE GRIND & GO BEYOND THE HUSTLE BECAUSE THAT IS THE ONLY WAY TO BE THE WALKING LEADER AND A LEADER THAT IS GREAT TO FOLLOW.
---
Please plug in your headphones, sit back and enjoy this 8 minute podcast.
---
LINKS MENTIONED IN THIS EPISODE:
• Walking Leader (dot) com: http://walkingleader.com/
---
Transcription: (coming soon)