As The Walking Leader, Your Personal Values Drive Your Commitment (#161)
by David G. Guerra • Walking Leader Podcast
---
In This Episode:

As The Walking Leader, Your Personal Values Drive Your Commitments with your host David G. Guerra, MBA
---
LISTEN NOW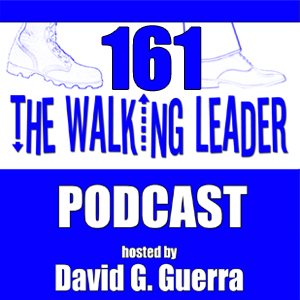 As The Walking Leader, Your Personal Values Drive Your Commitments. 
They say your word should be stronger than oak, deliver on your commitments and most of all, keep your word. All that is fine and dandy but what about your values? Your values drive your commitments, your values and value system is what drives what you do, why you do it, and to what extent you do what you do. What does this mean? By having a deep and honest reflection of you values, beliefs, and priorities you can see where you stand when it comes to honoring your commitments. It also means you have to work at identifying what you can and cannot change. Changes or modifications to your systems of values and beliefs will help move you to the next level of being a better leader and a much better human being.
Don't forget to CREATE WIN-WIN situations in all that you do. Start Strong! Stay Strong! Finish Strong! Be Strong!
And as always, I remind you to GO BEYOND THE GRIND & GO BEYOND THE HUSTLE BECAUSE THAT IS THE ONLY WAY TO BE THE WALKING LEADER AND A LEADER THAT IS GREAT TO FOLLOW.
---
Please plug in your headphones, sit back and enjoy this approximately 7 minute podcast.
---
LINKS MENTIONED IN THIS EPISODE:
• Walking Leader (dot) com: http://walkingleader.com/
---
Transcription: (coming soon)