As The Walking Leader, You Must Never Become The Bully That Intimidates, Is Rude, Feels Entitled, and Yes, Even Talks Down To Other Individuals (#158)
by David G. Guerra • Walking Leader Podcast
---
In This Episode:

As The Walking Leader, You Must Never Become The Bully That Intimidates, Is Rude, Feels Entitled, and Yes, Even Talks Down To Other Individuals with your host David G. Guerra, MBA
---
LISTEN NOW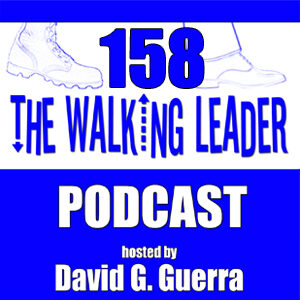 As The Walking Leader, You Must Never Become The Bully that Intimidates, Is Rude, Feels Entitled, and Yes, Even Talks Down To Other Individuals.
There will come a time that you will find yourself becoming a bully that intimidates others, is rude, feels a sense of entitlement, and yes, even talks down to others. Sadly, almost everyone that has been put in some kind of "management" position has been guilty of this. If you say "Oh, no! Not Me!" well you are a liar. Everyone, especially first timers have found themselves a little full of themselves. However, recognizing that fact, early, is the best way to learn from it to move and grow. Hopefully, grown into a leader that has seen the dark side of "managing others" and has become better for having once being that individual. Learning and Growing is the Fast Track To Leadership Greatness.
Don't forget to CREATE WIN-WIN situations in all that you do. Start Strong! Stay Strong! Finish Strong! Be Strong!
And as always, I remind you to GO BEYOND THE GRIND & GO BEYOND THE HUSTLE BECAUSE THAT IS THE ONLY WAY TO BE THE WALKING LEADER AND A LEADER THAT IS GREAT TO FOLLOW.
---
Please plug in your headphones, sit back and enjoy this 11 minute podcast.
---
LINKS MENTIONED IN THIS EPISODE:
• Walking Leader (dot) com: http://walkingleader.com/
---
Transcription: (coming soon)