Develop Your True Grit (#155)
by David G. Guerra • Walking Leader Podcast
---
In This Episode:

Develop Your True Grit with your host David G. Guerra, MBA
---
LISTEN NOW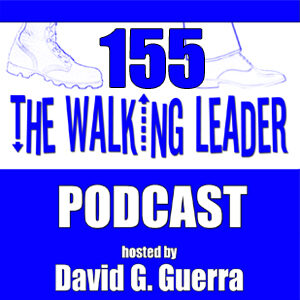 Develop Your True Grit
GRIT is defined as courage and resolve; strength of character. Every one, every one at every level must have GRIT. Grit is a mandatory requirement of leaders (from current to up-and-coming) and that is non-negotiable. COURAGE and RESOLVE is what makes a leader people will flock to. Gravitating to those that possess STRENGTH OF CHARACTER means their leader is NOT afraid to step up, take the reins, to be the one that will help lead and guide others to achieving their unique SUCCESSES. It will be difficult but then again, no one ever said being a Leader would be easy. However, developing your True Grit will make the process easier (a little easier).
Don't forget to CREATE WIN-WIN situations in all that you do. Start Strong! Stay Strong! Finish Strong! Be Strong!
And as always, I remind you to GO BEYOND THE GRIND & GO BEYOND THE HUSTLE BECAUSE THAT IS THE ONLY WAY TO BE THE WALKING LEADER AND A LEADER THAT IS GREAT TO FOLLOW.
---
Please plug in your headphones, sit back and enjoy this 6 1/2 minute podcast.
---
LINKS MENTIONED IN THIS EPISODE:
• Walking Leader (dot) com: http://walkingleader.com/
---
Transcription: (coming soon)