Walking Leader Podcast #151
As The Walking Leader, Always Remember It Is Not Your Team, It Is The Team's Team (#151)
by David G. Guerra • Walking Leader Podcast
---
In This Episode:

As The Walking Leader, Always Remember It Is Not Your Team, It Is The Team's Team with your host David G. Guerra, MBA
---
LISTEN NOW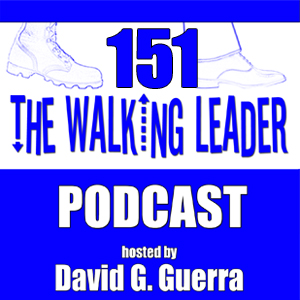 As The Walking Leader, Always Remember It Is Not Your Team, It Is The Team's Team
The Walking Leader is a team member. Sure the "buck" stops with the Team Leader but the Team must be given ownership of the team in order for success to arrive, stick around and create more success. The team must know that it has the autonomy to act on its own behalf especially when they are accepting of success and failure and they want to be part of the team.
Don't forget to CREATE WIN-WIN situations in all that you do. Start Strong! Stay Strong! Finish Strong! Be Strong!
And as always, I remind you to GO BEYOND THE GRIND & GO BEYOND THE HUSTLE BECAUSE THAT IS THE ONLY WAY TO BE THE WALKING LEADER AND A LEADER THAT IS GREAT TO FOLLOW.
---
Please plug in your headphones, sit back and enjoy this 13 minute podcast.
---
LINKS MENTIONED IN THIS EPISODE:
• Walking Leader (dot) com: http://walkingleader.com/
---
Transcription: (coming soon)