As The Walking Leader You Must Make Your Followers Step Up Even If It Hurts (#149)
by David G. Guerra • Walking Leader Podcast
---
In This Episode:

As The Walking Leader You Must Make Your Followers Step Up Even If It Hurts with your host David G. Guerra, MBA
---
LISTEN NOW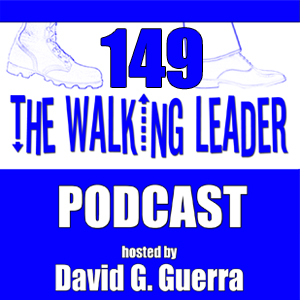 As The Walking Leader You Must Make Your Followers Step Up Even If It Hurts
Stepping It Up is a great motivation & inspiration tool for those individuals that find themselves becoming complacent, mediocre, and worst of all, comfortable. Because as a Leader you are expected to lead by example, you cannot afford to get complacent or comfortable. You must always be stepping up your living, working, being and operating to your fullest potential. Thus, be the example, for everyone, by stepping it up.
Don't forget to CREATE WIN-WIN situations in all that you do. Start Strong! Stay Strong! Finish Strong! Be Strong!
And as always, I remind you to GO BEYOND THE GRIND & GO BEYOND THE HUSTLE BECAUSE THAT IS THE ONLY WAY TO BE THE WALKING LEADER AND A LEADER THAT IS GREAT TO FOLLOW.
---
Please plug in your headphones, sit back and enjoy this 15 minute podcast.
---
LINKS MENTIONED IN THIS EPISODE:
• Urban Dictionary (dot) com: https://www.urbandictionary.com/define.php?term=Step%20it%20Up
• Walking Leader (dot) com: http://walkingleader.com/
---
Transcription: (coming soon)