As The Walking Leader Your Followers Must Know And Believe You Have Their Back (#147)
by David G. Guerra • Walking Leader Podcast
---
In This Episode:

As The Walking Leader Your Followers Must Know And Believe You Have Their Back with your host David G. Guerra, MBA
---
LISTEN NOW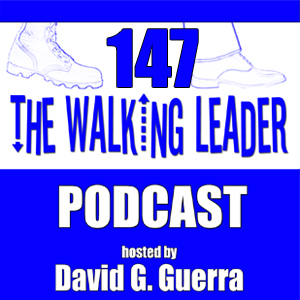 As The Walking Leader Your Follower Must Know and Believe You Have Their Back
Your Team must know you have their back. This is non-negotiable. You spent the time assembling your team. You gave this group of people the best that you could and they believe in you so much that they call you leader. You cannot rest on your laurels, as part of being their leader means you must be prepared to give them more than you thought you quite possibly could. At the top of the list, of what you can give them, is the knowledge and understanding you have their back. You will take care of them no matter what. You are the leader, after all.
Don't forget to CREATE WIN-WIN situations in all that you do. Start Strong! Stay Strong! Finish Strong! Be Strong!
And as always, I remind you to GO BEYOND THE GRIND & GO BEYOND THE HUSTLE BECAUSE THAT IS THE ONLY WAY TO BE THE WALKING LEADER AND A LEADER THAT IS GREAT TO FOLLOW.
---
Please plug in your headphones, sit back and enjoy this 12 minute podcast.
---
LINKS MENTIONED IN THIS EPISODE:
•
---
Transcription: (coming soon)