As The Walking Leader You Must Motivate & Inspire Your Followers (#146)
by David G. Guerra • Walking Leader Podcast
---
In This Episode:

As The Walking Leader You Must Motivate & Inspire Your Followers with your host David G. Guerra, MBA
---
LISTEN NOW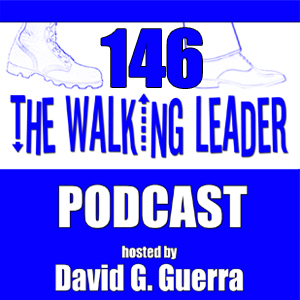 As The Walking Leader You Must Motivate & Inspire Your Followers
Your Team must be motivated and ready to go at all times. That motivation and inspiration must come directly from you. However, you, as well, must be motivated and inspired. It is when you fail that then the wheels stop and can no long keep the flow. In this episode, I take a deeper dive into the intricacies and complexities around motivation and inspiration. They are always more than a speech on the battlefields of England, the beaches of Normandy, the artificial turf of a football stadium. Those speeches are the icing on the cake, I am talking about the day-to-day motivation and inspiration.
Don't forget to CREATE WIN-WIN situations in all that you do. Start Strong! Stay Strong! Finish Strong! Be Strong!
And as always, I remind you to GO BEYOND THE GRIND & GO BEYOND THE HUSTLE BECAUSE THAT IS THE ONLY WAY TO BE THE WALKING LEADER AND A LEADER THAT IS GREAT TO FOLLOW.
---
Please plug in your headphones, sit back and enjoy this 20 minute podcast.
---
LINKS MENTIONED IN THIS EPISODE:
• Top 25 Tips on How to Motivate Your Team from the Pros: https://fitsmallbusiness.com/how-to-motivate-your-team/
• SAVING PRIVATE RYAN – See you on the beach: https://www.youtube.com/watch?v=lCEFOx5Hc2Y
---
Transcription: (coming soon)