As The Walking Leader You Must Set The Standards (#145)
by David G. Guerra • Walking Leader Podcast
---
In This Episode:

As The Walking Leader You Must Set The Standards with your host David G. Guerra, MBA
---
LISTEN NOW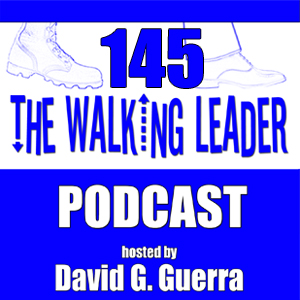 As The Walking Leader You Must Set The Standards
In this episode, David talks about how as a Walking Leader You Must Set The Standard. Setting the standard conveys your expectations of those you lead (including yourself). Setting Personal and Professional Standards are symbiotic in that what happens with one will affect the other. Therefore, establish your personal standards and set them high. High standards are what helps to motivate and inspire your follower but it also helps deter the naysayers from trying to undermine what you are trying to do as a leader, a Walking Leader.
Don't forget to CREATE WIN-WIN situations in all that you do. Start Strong! Stay Strong! Finish Strong! Be Strong!
And as always, I remind you to GO BEYOND THE GRIND & GO BEYOND THE HUSTLE BECAUSE THAT IS THE ONLY WAY TO BE THE WALKING LEADER AND A LEADER THAT IS GREAT TO FOLLOW.
---
Please plug in your headphones, sit back and enjoy this 16 minute podcast.
---
LINKS MENTIONED IN THIS EPISODE:
•
•
---
Transcription: (coming soon)