5 Ways To Overcoming Fear To Becoming The Walking Leader (#144)
by David G. Guerra • Walking Leader Podcast
---
In This Episode:

5 Ways To Overcoming Fear To Becoming The Walking Leader with your host David G. Guerra, MBA
---
LISTEN NOW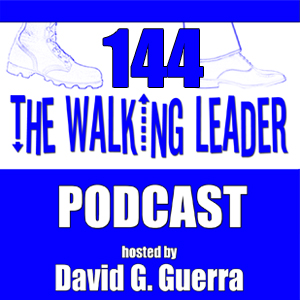 5 Ways To Overcoming Fear To Becoming The Walking Leader
In this episode, David talks about the 5 Ways To Overcoming Fear To Becoming The Walking Leader.
Being Visible, Getting To Know Others, Stand For Something, Deliver on your Promises and Recruit Others creates and boosts your confidence levels. By building up your confidence, leaders are more apt to continue to grow and build trust. Building that trust is key to leading by example because you are Walking Your Talk!
Don't forget to CREATE WIN-WIN situations in all that you do. Start Strong! Stay Strong! Finish Strong! Be Strong!
And as always, I remind you to GO BEYOND THE GRIND & GO BEYOND THE HUSTLE BECAUSE THAT IS THE ONLY WAY TO BE THE WALKING LEADER AND A LEADER THAT IS GREAT TO FOLLOW.
---
Please plug in your headphones, sit back and enjoy this 18 minute podcast.
---
LINKS MENTIONED IN THIS EPISODE:
•
•
---
Transcription: (coming soon)