An Interview With Dr. Patricia Thompson (President of Silver Lining Psychology) (#143)
by David G. Guerra • Walking Leader Podcast
---
In This Episode:

An Interview with Dr. Patricia Thompson (Silver Lining Psychology) with your host David G. Guerra, MBA
---
LISTEN NOW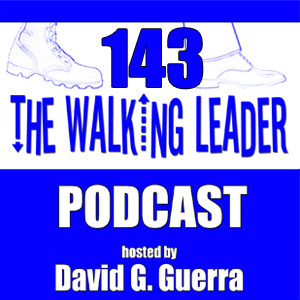 An Interview with Dr. Patricia Thompson (Author and President of Siliver Lining Psychology)
In this episode, David talks with Dr. Patricia Thompson, President of Silver Lining Psychology and Author of the book, "The Consummate Leader".
In this brief interview, Dr. Patricia Thompson talks to us about her work as a Corporate Psychology and about her book "The Consummate Leader: a holistic guide to inspiring growth in others … and in yourself."
Patricia also shares with us a few tips we can act on now to make change happen with almost immediate results.  Take a listen to this 25 minute podcast episode
Don't forget to CREATE WIN-WIN situations in all that you do. Start Strong! Stay Strong! Finish Strong! Be Strong!
And as always, I remind you to GO BEYOND THE GRIND & GO BEYOND THE HUSTLE BECAUSE THAT IS THE ONLY WAY TO BE THE WALKING LEADER AND A LEADER THAT IS GREAT TO FOLLOW.
---
Please plug in your headphones, sit back and enjoy this 25 minute podcast.
---
LINKS MENTIONED IN THIS EPISODE:
• SILVER LINING PSYCHOLOGY (Dr. Patricia Thompson's Company Website
• THE CONSUMMATE LEADER: a holistic guide to inspiring growth in others … and in yourself by Dr. Patricia Thompson
---
Transcription: (coming soon)