Learning Those Soft Skills – Wrapping Up Soft Skills Series (#142)
by David G. Guerra • Walking Leader Podcast
---
In This Episode:

Learning Those Soft Skills – The Wrap Up with your host David G. Guerra, MBA
---
LISTEN NOW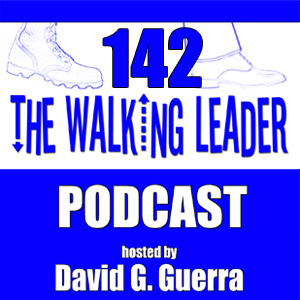 Learning Those Soft Skills – THE WRAP UP
In this episode, David talks about the Wrapping Up The Learning Those Soft Skills series.
The sixteen soft skills are things that critical to your success as an employee, as a team member, and most importantly as a Leader. By taking these sixteen soft skills and incorporating them into your daily life you will ultimately, become better at what you do and better as a leader. So get out there, work on those soft skills all the time and never stop improving. You not only owe it to yourself but to those you lead.
Learning, Knowing, Understanding, and Mastering these soft skills are critical to your success as an individual and leader.
Don't forget to CREATE WIN-WIN situations in all that you do. Start Strong! Stay Strong! Finish Strong! Be Strong!
And as always, I remind you to GO BEYOND THE GRIND & GO BEYOND THE HUSTLE BECAUSE THAT IS THE ONLY WAY TO BE THE WALKING LEADER AND A LEADER THAT IS GREAT TO FOLLOW.
---
Please plug in your headphones, sit back and enjoy this 21 minute podcast.
---
LINKS MENTIONED IN THIS EPISODE:
no external links were mentioned in this episode
---
Transcription: (coming soon)