Learning Those Soft Skills – The Other Soft Skills (#141)
by David G. Guerra • Walking Leader Podcast
---
In This Episode:

Learning Those Soft Skills – The Other Soft Skills with your host David G. Guerra, MBA
---
LISTEN NOW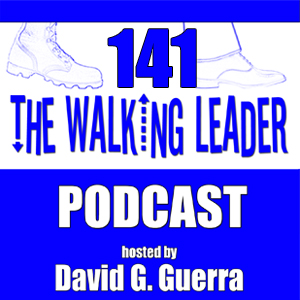 Learning Those Soft Skills – THE OTHER SOFT SKILLS
In this episode, David talks about the Soft Skill of The Other Soft Skills.
While there are still more soft skills that one can learn, master, and teach others and I will eventually cover them all. For now, here are six more soft skills that I consider worthy of being mentioned. As luck would have it, some of these soft skills I have already talked about in past episodes. Here they are: Confidence • Creative Thinking • Listening • Accountability/Responsibility • Emotional Awareness • Empathy
Learning, Knowing, Understanding, and Mastering these soft skills are critical to your success as an individual and leader.
Don't forget to CREATE WIN-WIN situations in all that you do. Start Strong! Stay Strong! Finish Strong! Be Strong!
And as always, I remind you to GO BEYOND THE GRIND & GO BEYOND THE HUSTLE BECAUSE THAT IS THE ONLY WAY TO BE THE WALKING LEADER AND A LEADER THAT IS GREAT TO FOLLOW.
---
Please plug in your headphones, sit back and enjoy this 21 minute podcast.
---
LINKS MENTIONED IN THIS EPISODE:
• The Balance Careers (dot) com: "Important Soft Skills for Workplace Success"
https://www.thebalancecareers.com/top-soft-skills-2063721
• The Muse (dot) com: How to Take Feedback Like a Pro
https://www.themuse.com/advice/how-to-take-feedback-like-a-pro
---
Transcription: (coming soon)