Learning Those Soft Skills – Accepting Feedback (#140)
by David G. Guerra • Walking Leader Podcast
---
In This Episode:

Learning Those Soft Skills – Accepting Feedback with your host David G. Guerra, MBA
---
LISTEN NOW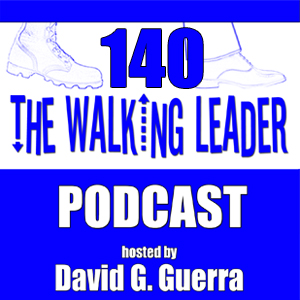 Learning Those Soft Skills – ACCEPTING FEEDBACK
In this episode, David talks about the Soft Skill of Accepting Feedback.
While most people are not well-versed at giving proper feedback, all leaders must master how to properly accept feedback (good or bad) and turn that into something positive and productive. After all, that is what feedback is all about: giving something to create positive personal and professional growth. Once you master accepting feedback and using it to grow as an individual, you then share it with those you lead and are responsible for at work and at home. Show them accepting all feedback, no matter how it is given, is good feedback
Don't forget to CREATE WIN-WIN situations in all that you do. Start Strong! Stay Strong! Finish Strong! Be Strong!
And as always, I remind you to GO BEYOND THE GRIND & GO BEYOND THE HUSTLE BECAUSE THAT IS THE ONLY WAY TO BE THE WALKING LEADER AND A LEADER THAT IS GREAT TO FOLLOW.
---
Please plug in your headphones, sit back and enjoy this 17 minute podcast.
---
LINKS MENTIONED IN THIS EPISODE:
• The Balance Careers (dot) com: "Important Soft Skills for Workplace Success"
https://www.thebalancecareers.com/top-soft-skills-2063721
• The Muse (dot) com: How to Take Feedback Like a Pro
https://www.themuse.com/advice/how-to-take-feedback-like-a-pro
• Forbes (dot) com: You Can Take It! How To Accept Negative Feedback With Ease
https://www.forbes.com/sites/joefolkman/2017/12/05/you-can-take-it-how-to-accept-negative-feedback-with-ease/#1807dcc723a7
---
Transcription: (coming soon)