Learning Those Soft Skills – Time Management (#139)
by David G. Guerra • Walking Leader Podcast
---
In This Episode:

Learning Those Soft Skills – Time Management with your host David G. Guerra, MBA
---
LISTEN NOW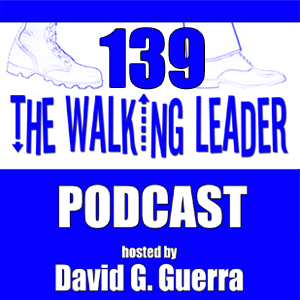 In this episode, I talk about Learning Those Soft Skills – Time Management
In this episode, your host, David Guerra, talks about TIME MANAGEMENT as a soft skill and talks about why it is one of the most important soft skill to have and use.
Time Management is not just about having things to do but also when to to do them. While most people feel that time management is a work place soft skill, it is very much an all around life skill. Taking the time to manage your work and personal life both separate and apart is what leads to becoming a better individual, better mentor, and better leader. Remember, those you lead and manage and care for all do one thing; they look up to you. Thus what you do to make your life better leads to improving their lives. What leader does not want that for their followers?
Don't forget to CREATE WIN-WIN situations in all that you do. Start Strong! Stay Strong! Finish Strong! Be Strong!
And as always, I remind you to GO BEYOND THE GRIND & GO BEYOND THE HUSTLE BECAUSE THAT IS THE ONLY WAY TO BE THE WALKING LEADER AND A LEADER THAT IS GREAT TO FOLLOW.
---
Please plug in your headphones, sit back and enjoy this 15 minute podcast.
---
LINKS MENTIONED IN THIS EPISODE:
• Top Resume (dot) com: 6 Soft Skills Employers Are Looking for
https://www.topresume.com/career-advice/6-soft-skills-employers-are-looking-for-in-2016
• A Brief Guide to Time Management
https://corporatefinanceinstitute.com/resources/careers/soft-skills/time-management-list-tips/
---
Transcription: (coming soon)