Learning Those Soft Skills – Critical Observation (#135)
by David G. Guerra • Walking Leader Podcast
---
In This Episode:

Learning Those Soft Skills – Critical Observation with your host David G. Guerra, MBA
---
LISTEN NOW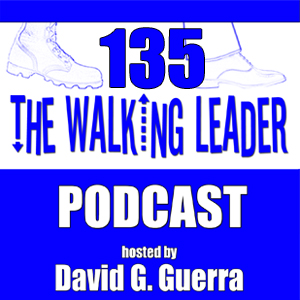 In this episode, I talk about Learning Those Soft Skills – Critical Observation
In this episode, your host, David Guerra, gives you his deep dive into the soft skill known as CRITICAL OBSERVATION and explains why it is an important soft skill to have and use.
Critical Observation is a soft skill that can be easily learned and mastered. Critical Observation involves looking at the "big picture" and extrapolating essential and timely information that will benefit the team, the group, the department, the organization and its stakeholders. The only issue here is that while you may be proficient as a Critical Observer in your current place of employment, moving to a new position or organization it may take some time to regain the proficiency in that new location or position.
Don't forget to CREATE WIN-WIN situations in all that you do. Start Strong! Stay Strong! Finish Strong! Be Strong!
And as always, I remind you to GO BEYOND THE GRIND & GO BEYOND THE HUSTLE BECAUSE THAT IS THE ONLY WAY TO BE THE WALKING LEADER AND A LEADER THAT IS GREAT TO FOLLOW.
---
Please plug in your headphones, sit back and enjoy this 11 minute podcast.
---
LINKS MENTIONED IN THIS EPISODE:
MONSTER: Soft skills to help your career hit the big time
https://www.monster.com/career-advice/article/soft-skills-you-need
---
Transcription: (coming soon)