Learning Those Soft Skills – Intro (#130)
by David G. Guerra • Walking Leader Podcast
---
In This Episode:

Learning Those Soft Skills – Intro with your host David G. Guerra, MBA
---
LISTEN NOW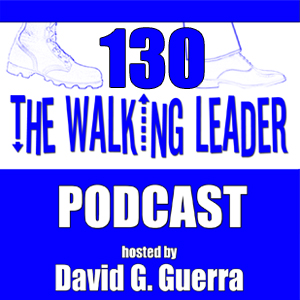 In this episode, I talk about Learning Those Soft Skills – Intro
In this episode, your host, David Guerra, gives an introduction to the upcoming LEARNING SOFT SKILLS podcast series. There will be a total of twelve podcast episodes in the series. In each of the episodes David will present the various soft skill topics that today's employers are looking for, need and expect from new hires as well as from tenured staff. A new episode will drop once a week until all 12 episodes are available online.
Don't forget to CREATE WIN-WIN situations in all that you do. Start Strong! Stay Strong! Finish Strong! Be Strong!
And as always, I remind you to GO BEYOND THE GRIND & GO BEYOND THE HUSTLE BECAUSE THAT IS THE ONLY WAY TO BE THE WALKING LEADER AND A LEADER THAT IS GREAT TO FOLLOW.
---
Please plug in your headphones, sit back and enjoy this 12 minute podcast.
---
Transcription: (coming soon)