It Is 2019, Now What? (#127)
by David G. Guerra • Walking Leader Podcast
---
In This Episode:

It Is 2019, Now What? with your host David G. Guerra, MBA
---
LISTEN NOW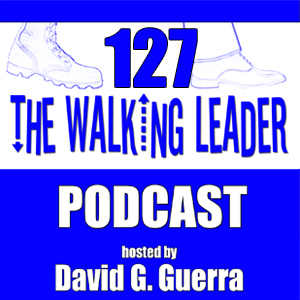 In this episode, I talk about It Is 2019, Now What?
2019 is well underway and the time to get yourself focused to make this year the success you want it to be. I offer five (5) concepts to utilize, adapt, make your own towards achieving that success. From letting go of the past to keeping your eye on the prize, in this fourteen and a half minute podcast, gives you the tools to get the conversation started. I also give you a bit of insight on how to make 2019 the success you want and expect.
Don't forget to CREATE WIN-WIN situations in all that you do. Start Strong! Stay Strong! Finish Strong! Be Strong!
And as always, I remind you to GO BEYOND THE GRIND & GO BEYOND THE HUSTLE BECAUSE THAT IS THE ONLY WAY TO BE THE WALKING LEADER AND A LEADER THAT IS GREAT TO FOLLOW.
---
Please plug in your headphones, sit back and enjoy this 14 and a half minute podcast.
---
Transcription: (coming soon)