5 Tips For Preparing Your Team For The New Year (2019 edition) (#126)
by David G. Guerra • Walking Leader Podcast
---
In This Episode:

5 Tips For Preparing Your Team For The New Year (2019 edition) with your host David G. Guerra, MBA
---
LISTEN NOW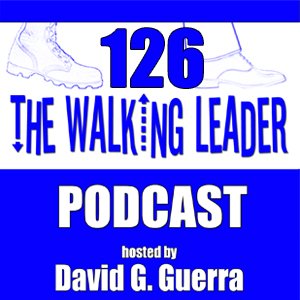 In this episode, I talk about the 5 Tips For Preparing Your Team For The New Year (2019 edition).
Creating an environment of success begins long before the team hits the ground running. However, as the calendar changes we have to realize that change is a constant and will have its way with us if do not prepare as a team for the challenges, trials, and tribulations that come with 2019. Communicating early, often, and constantly with your team will all but ensure nothing but success when the time comes. The five tips (plus a bonus tip) are for all members of the team and are yours to take, learn, alter (accordingly) and use them to build the success you and your team expect in 2019.
Don't forget to CREATE WIN-WIN situations in all that you do. Start Strong! Stay Strong! Finish Strong! Be Strong!
And as always, I remind you to GO BEYOND THE GRIND & GO BEYOND THE HUSTLE BECAUSE THAT IS THE ONLY WAY TO BE THE WALKING LEADER AND A LEADER THAT IS GREAT TO FOLLOW.
---
Please plug in your headphones, sit back and enjoy this 13 minute podcast.
---
Transcription: (coming soon)